2016 Composer Competition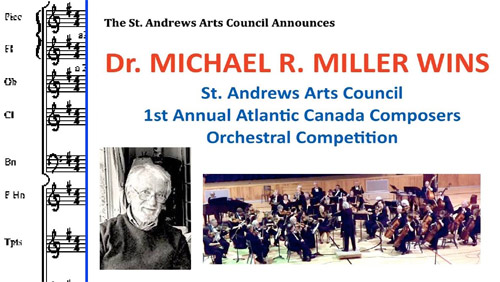 by Wilma Blokhuis
The St. Andrews Arts Council is pleased to announce the winner of its inaugural Atlantic Canada Composers Orchestral Competition, composer Dr. Michael R. Miller of Fredericton.

Miller's winning musical composition, Getting With Five, will be premiered in St. Andrews on August 6 at the St. Andrews Gala Festival Concert conducted by Maestro Lewis Dalvit, founder of the St. Andrews Arts Council.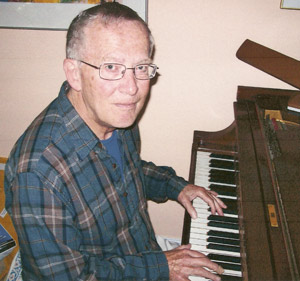 "As music lovers we are all much more familiar with four, two, and three beats per measure," says Miller. "But two well-known examples of quintuple meter are the second movement of Tchaikovsky's Symphony No. 6, and Dave Brubeck's Take Five.

"Although I am a composer of concert music in contemporary style, I do like to communicate with an audience by using basic rhythm, melody and key centres – but my chords are somewhat unconventional."

Miller, born July 24, 1932 in Lisbon, Portugal, holds a BA (1955) from New York University plus a Masters (1956) and a PhD in Composition (1971) from the Eastman School of Music (ESM), Rochester, NY; he studied composition at ESM with Bernard Rogers and Wayne Barlow. Miller taught at New York University 1961-5 and Vassar College in New York State from 1965-6.

After immigrating to Canada in 1967, he began teaching piano, music composition and theory at Mount Allison University, and performed 1967-74 with the Mount Allison Trio. Miller has composed for choir, voice, piano, orchestra, and chamber ensemble. He employs various 20th-century techniques (pandiatonic, polytonal, modal, cross-rhythm, serial, elements of chance) though his compositions usually retain identifiable meter and tonality.

Miller taught music theory at Mount Allison University in Sackville, NB, from1967-98. He and his wife Edith moved to Fredericton in 1989.

He has written for many different instruments, voices, and combinations, including Symphony New Brunswick, Saint John String Quartet, Motion Ensemble and Peter Allen, pianist, and Sally Dibblee, soprano.

Since 2000 in Fredericton, two CDs of Miller's works have been produced: A Peace Cantata (2001), and Approaching the Spring Place (2008), a sampling for piano solo, voice and chamber music. In 2009 he completed two commissions as part of the Cultural Capitals of Canada program: Voices From Our Past and Fredericton Rhapsody.

Three beginner piano pieces were published by Northern Lights, and his song Revolving Doors was included in the NATS Contemporary Showcase.

In 2012 Miller was awarded a Creation Grant by ArtsNB to compose Marsh-Boy Music, which was premiered Sept. 22, 2013, in Fredericton by the quartet, Atlantica in Memorial Hall, University of New Brunswick.

Miller's commissioned works include Song of the Woods (1979), a young persons' musical written for the Music Education Council of the New Brunswick Teachers' Association and the John Adaskin Project; and Quintet Equinox (1984) for strings and piano, written for the Brunswick String Quartet on the occasion of the bicentennial of New Brunswick. Around Alline (1989), a three-act opera on the effect of the American Revolution on the Maritimes, was given a concert premiere by the Music Department of Mount Allison University in February 1990. Prayers for the Earth (1990) won second prize in a CFMTA competition for new anthems in 1991. Miller played his Flights from the Nest (1990) at Mount Allison University in February 1991. His War Music, a piano suite, includes short verses by the composer interspersed between the movements. He also wrote the texts of Prayers for the Earth and Around Alline. The Kyrie and Gloria from his Mass for Peace (1962, Kalmus 1964) have been recorded (1973) by the Festival Singers (CBC). His Chord of Nature, commissioned by guitarist Michel Cardin (1985), appears on a two-disc LP project of the Atlantic Canadian Composers' Association (1987). He is an associate of the Canadian Music Centre and a member of SOCA\N, CLComp and the Atlantic Canadian Composers' Association.

Miller's works have frequently been broadcast by the CBC.

The 2016 Atlantic Canada Composers Orchestra Competition, open to Canadian composers of any age residing in New Brunswick, Prince Edward Island, Nova Scotia or Newfoundland and writing orchestral music, was inaugurated to celebrate the 30th anniversary of the St. Andrews Arts Council.

The St. Andrews Arts Council, Summer School for the Performing Arts was established in 1986 in partnership with the New Brunswick Community College – Saint Andrews Campus. It provides internationally recognized educational programs and performance opportunities for students, emerging artists and professionals pursuing a career in the performing arts.