2017 Courses & Workshops for Older Teens & Adults
►Visit our Courses for Children and Youth
►Visit our Course Registration Page
New courses will be added over the next few months. Keep checking in for updates!
►ACT
►SING
►MAKE MUSIC


ACT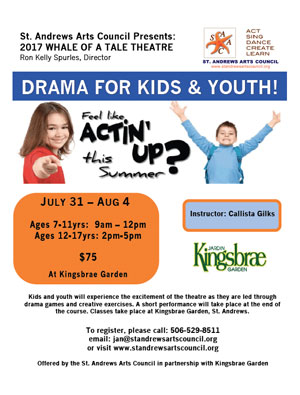 DRAMA for YOUTH!
July 31 - August 4
Ages 12-17

Youth will experience the excitement of the theatre as they are led through drama games and creative exercises. A short performance will take place at the end of the course. Classes take place at Kingsbrae Garden, St. Andrews.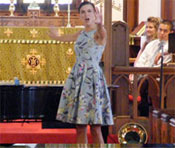 SING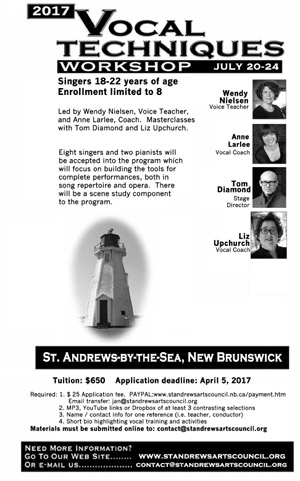 VOCAL TECHNIQUES WORKSHOP
July 20-24, 2017 | Students ages 18-22

Anne Larlee, Vocal Coach
Wendy Nielsen, Vocal Coach
Tom Diamond, Stage Director
Liz Upchurch, Vocal Coach
Led by Wendy Nielsen, voice teacher and Anne Larlee, coach. Masterclasses with Tom Diamond and Liz Upchurch. Eight singers and two pianists will be accepted into the program which will focus on building the tools for complete performances both in song repertoire and opera...

---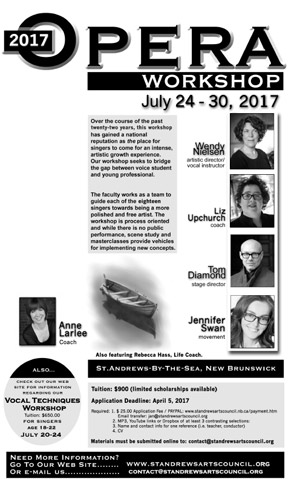 OPERA WORKSHOP
July 24 - 30, 2017
Wendy Nielsen
, Vocal Coach
Tom Diamond
, Stage Director
Liz Upchurch
, Vocal Coach
Jennifer Swan
, Movement
Rebecca Hass
, Life Skills
Anne Larlee
, Vocal Coach
Over the course of the past twenty years, this workshop has gained a national reputation as the place for singers to come for an intense, artistic growth experience. Our workshop seeks to bridge the gap between voice student and young professional...

---
---