Children's and Youth Courses and Workshops - 2017
MAKE, PLAY, ACT, DANCE
FOR 5-10 YR OLDS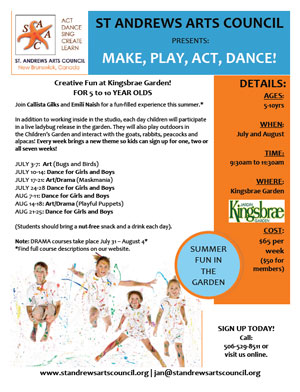 July 3-7, 2017 | 9:30am to 11:30am 2 spaces
July 10-14, 2017 | 9:30am to 11:30am FULL
July 17-21, 2017 | 9:30am to 11:30am FULL
July 24-28, 2017 | 9:30am to 11:30am FULL
Aug 7-11, 2017 | 9:30am to 11:30am FULL
Aug 14-18, 2017 | 9:30am to 11:30am FULL
Aug 21-25, 2017 | 9:30am to 11:30am 1 space



$65 per week or $50 for Arts Council members.

Join us for a fun-filled creative experience at Kingsbrae Garden for 5 to 10 year olds.
In addition to working inside in the studio, each day children will participate in a live ladybug release in the garden. They will also play outdoors in the Children's Garden and interact with the goats, rabbits, peacocks and alpacas! Every week brings a new theme so kids can sign up for one, two or all seven weeks!
Sign up for one, two or more weeks!

KIDS / YOUTH DRAMA - AGES 7-11 / AGES 12-17

KIDS - Ages: 7-11 : 9am - 12pm - FULL

YOUTH - Ages: 12-17 : 2pm - 5pm - 10 spaces

$75.00
Kids and youth will experience the excitement of the theatre as they are led through drama games and creative exercises. A short performance will take place at the end of the course. Classes take place at Kingsbrae Garden, St. Andrews.

---