Faculty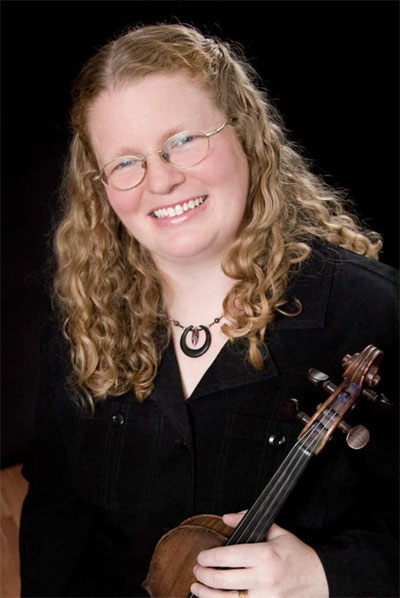 Katherine Moller
NewBEMF Consort, violin, Celtic violin, fiddle
Katherine Moller is one of New Brunswick's most versatile musicians. Whether she is playing classic fiddle tunes in a crowded pub or the music of Bach on a concert stage, her love and respect for the instrument and its wide-spread appeal have brought her considerable acclaim as one of the province's true fiddle ambassadors.
Her upbringing as a young classical musician was challenged early on, when she first heard Cape Breton fiddle sensations Natalie McMaster and Ashley MacIsaac performing one summer at a Nova Scotia festival. The experience turned her understanding of the instrument upside-down and presented an entirely new world of possibilities to this young musician.
A graduate of McGill University in Montreal, Katherine studied music theory and classical music before receiving a grant from the Canada Council for the Arts to study fiddle in Ireland in pursuit of a greater understanding of Celtic fiddle styles.
Since that time, Katherine has forged a career for herself based entirely around four strings and a bow. As an active member of the local music community, Katherine has founded several outlets for her musical pursuits. Her teaching academy, Moller Music, provides group and private instruction for all-ages including a number of in-school programs catering to students at the middle and high school levels. The York Early Music Ensemble is a string ensemble formed of high-level amateur musicians that performs music from the 16th, 17th, and 18th centuries, and the NB Fiddle Camp provides annual summer instruction with guest instructors from around the Maritime provinces. Katherine is also co-founder of the Fredericton Early Music Festival and Early Music Fredericton.
She also finds time to perform regularly with Symphony NB, the Atlantic Sinfonia, Seasons Baroque Ensemble, Collegium Musicum, Different Folk, and as a solo performer. And with two recordings of her own, Take The Happy Road (2007) and By Request (2010), Katherine is without a doubt one of New Brunswick's most highly regarded representatives of the fiddle and its extensive versatility.
Katherine currently resides in Harvey, New Brunswick, near the birthplace of Canadian fiddle legend Don Messer.
www.katherinemoller.ca
Courses:
►
Early Music Ensemble