Faculty - Ventus Machina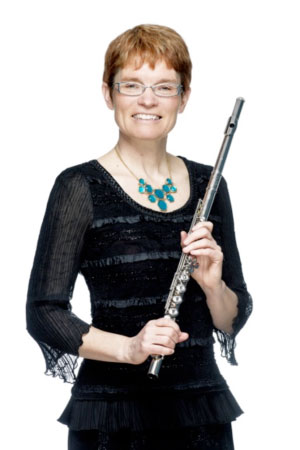 Karin Aurell, flute Ventus Machina
Flutist Karin Aurell is originally from Sweden, where she spent close to 20 years as a full time symphony orchestra musician, playing for the most part in the Norrkoping Symphony Orchestra. She moved to Sackville NB in 2001, and has enjoyed life as a freelancing musician in the Maritimes ever since. She loves recording, and her latest Trio Arkaede CD, Tour de France, was released on Leaf Music in June 2014. She has two previous solo and chamber CD's to her name - Nightingales for Katy, for solo flute, and Trio Arkaede's first self-titled album (released in June 2008).
Since her arrival in Atlantic Canada, Karin has played regularly with Symphony Nova Scotia and in the Charlottetown Festival Orchestra each summer. She is an active chamber music performer, mainly as a member of Ventus Machina, but also with NB new music group Motion Ensemble and Trio Arkaede together with Isabelle Fournier and Julien LeBlanc. She has collaborated in several projects with her sister Gerd Aurell, a visual artist based in Sweden, and the sisters' work has toured in Sweden and Canada. Karin teaches flute at Université de Moncton and Mount Allison University, and is the coach for the flute section of the New Brunswick Youth Orchestra. An avid traveller, Karin occasionally takes time away from Ventus Machina to visit the far reaches of the planet.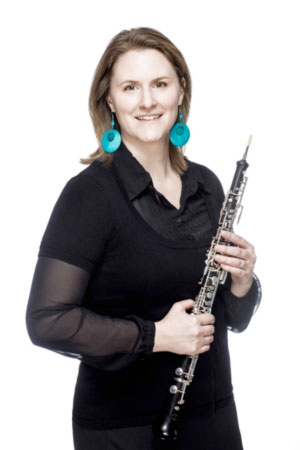 Christie Goodwin, oboe Ventus Machina
A relatively recent arrival to New Brunswick, Ms. Goodwin held the position of Principal oboist of the Niagara Symphony until 2012, and has previously held principal positions with the Kitchener-Waterloo Chamber Orchestra and Korean Canadian Symphony Orchestra. She currently plays oboe and English horn as a member of Symphony New Brunswick. Christie has been featured with orchestras both as an oboe soloist and an English Horn soloist on multiple occasions, including with Symphony New Brunswick in May 2013, and has appeared as a freelance musician in ensembles throughout Southern Ontario and the Maritimes. A dedicated chamber musician, Christie is the oboist of both the Ventus Machina woodwind quintet and of the Niagara Winds woodwind quintet.
Originally from small-town Alberta, Ms. Goodwin completed her Bachelor of Music at the University of British Columbia with teacher Beth Orson of the Vancouver Symphony, and the Artist's Diploma program at the Glenn Gould School of the Royal Conservatory with former Toronto Symphony Orchestra principal, Richard Dorsey. Christie teaches oboe, piano and Music for Young Children ™ from her home studio in Dieppe, co-ordinates educational outreach activities for both Symphony New Brunswick and the department of music at l'Université de Moncton, administrates for Ventus Machina and enjoys occasional music festival adjudication duties.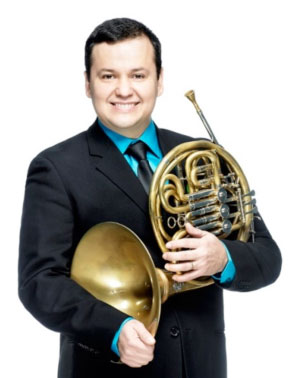 Ulises Aragon, French horn Ventus Machina
Ulises Aragon currently holds the position of principal horn with Symphony New Brunswick, and was the first horn and lead partner in the Simon Bolivar Symphony Orchestra, in Caracas, Venezuela, from 1989 to 2012. He also serves as resident teacher at the International Horn Festival in Manizales, Colombia, held annually since 2006.
Professor Aragon holds a degree in Instrumental Performance from the University Institute of Musical Studies (IUDEM), a Diploma in Instrumental Performance from the Conservatory of Music Simón Bolivar, the Graduate and Orchestral Diplomas from the Mozarteum Venezuela, and a Solo Horn Performance diploma from the Hochschule fur Musik und Theater Hannover (Germany).
As a soloist, Ulises has appeared with the major symphony orchestras across Venezuela and internationally with the Philharmonic Orchestra of Ecuador, and most recently with Symphony New Brunswick in May 2013. His solo repertoire includes the concertos of R. Strauss, W.A. Mozart, J. Haydn, M. Haydn, R. Schumann, R. Gliere, and Inocente Carreño (Concerto No. 2, a premiere performance with the composer). An active chamber musician, Professor Aragon has most notably been a member of: Quintet Inocente Carreño, Wind Octet Simon Bolivar, Venezuela Brass Ensemble, Ensemble Horns Aragon, among others, and has performed with these groups in theaters throughout Venezuela, Latin America and Europe.
He currently resides in Dieppe with his family, plays with Symphony New Brunswick and Ventus Machina, and has just launched his own catering company.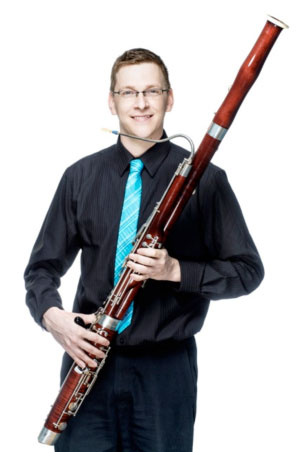 Patrick Bolduc, bassoon Ventus Machina
Former principal bassoonist of both L'Orchestre Symphonique de Trois-Rivières (2003-2007) and the Niagara Symphony (2007-2012), Patrick is now the principal bassoonist of Symphony New Brunswick, and a founding member of Ventus Machina woodwind quintet. After studying at the Conservatiore de musique de Québec under bassoonist Richard Gagnon of L'Orchestre Symphonique de Québec, Patrick studied in Toronto at the Glenn Gould School of the Royal Conservatory with Fraser Jackson of the Toronto Symphony and the renowned Caliban Quartet of bassoonists.
M. Bolduc has travelled throughout Canada, USA, Japan, and France as a member of both the National Youth Orchestra of Canada and the Québec Oboe Band. He has played as a freelance musician with L'Orchestre Symphonique de Québec, Les Grands Ballets Canadiens de Montréal, L'Orchestre de la Francophonie Canadienne, the Caliban Quartet, and L'Orchestre Symphonique de Montréal among others. A native of Québec, Patrick now lives and works in New Brunswick, where he spends his time performing with Ventus Machina and Symphony New Brunswick, teaching bassoon at l'Université de Moncton, caring for his active young family, and operating as the sole proprietor of his independent sports sales agency.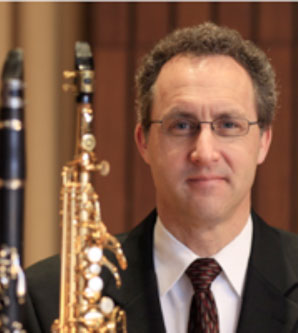 James Kalyn, clarinet and saxophone Ventus Machina
Lauded by colleagues and students as a "world-class doubler", James Kalyn has built a career over the past twenty-five years as a soloist and orchestral musician of the highest calibre on both saxophone and clarinet. Grand Prize winner of the prestigious Canadian Music Competition's International Stepping Stone division, and winner of the Fischoff national Chamber Music Competition in the USA, James Kalyn maintains an international career as a performer, conductor, and pedagogue. At Mount Allison Kalyn teaches saxophone, clarinet, and conducting, and conducts the Symphonic Band and Chamber Orchestra. He also supervises the Pep Band. As a concert saxophonist James Kalyn has performed throughout the United States and Canada, as well as in Argentina, China, and Japan. He plays saxophone in the Cleveland Orchestra and has made a number of solo and chamber music recordings. As a clarinetist Kalyn won his first professional orchestra position while still an undergraduate student, and has played in orchestras continuously since that time.
A conductor of both orchestral and wind ensembles, James Kalyn returned to his native Canada in 2011 to take up a post as Professor of Single Reeds and Conducting at Mount Allison University in New Brunswick. Previous teaching appointments include the Eastman School of Music, Oberlin Conservatory, the North Carolina School of the Arts, the University of Western Ontario, and Wilfrid Laurier University. Kalyn himself holds degrees from the University of Western Ontario, Michigan State University, and the Eastman School of Music. Since 2005 James Kalyn has worked extensively in China, largely in connection with the Oberlin Conservatory, and studies Mandarin.
Courses:
►
Wind Masters Workshop