2017 Opera Workshop for Advanced Singers
July 24 - July 30, 2017
Over the course of the past twenty-two years, this workshop has gained a national reputation as the place for singers to come for an intense, artistic growth experience. Our workshop seeks to bridge the gap between voice student and young professional.
The faculty works as a team to guide each of the eighteen singers towards being a more polished and free artist. The workshop is process oriented and while there is no public performance, scene study and masterclasses provide vehicles for new concepts.
Professional Development Intensive - August 1-5 - for established professional singers (by invitation only)
Faculty:
Click on image for a detailed bio.
Registration:
Tuition: $900 (limited scholarships available)

Application Deadline: April 5, 2017

Required:
►MP3, YouTube links or Dropbox files of at least 3 contrasting selections.
►Name and contact info of at least one reference (ie: teacher, conductor)
►CV

Materials must be submitted online to:
contact@standrewsartscouncil.org


►$25.00 Application Fee
Pay $25 Application Fee with PayPal:
OR

Send an E-Transfer to jan@standrewsartscouncil.org
(Be sure to state what you are paying for. Otherwise, your payment may not be applied to your application.)


Print It: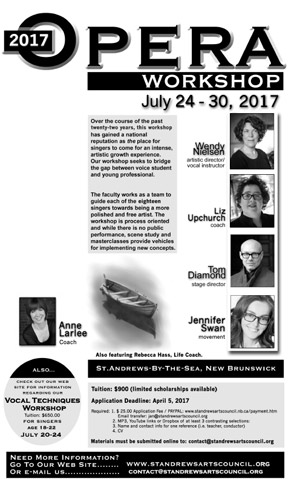 ► For a printable version of this workshop poster, please click here.

This program would no be possible without the continued support of: