2017 Vocal Techniques Workshop
Students 18 - 22 years of age | Enrollment limited to 8 singers/2 pianists
July 20-24, 2017
Led by Wendy Nielsen, voice teacher and Anne Larlee, coach. Masterclasses with Tom Diamond and Liz Upchurch.
Eight singers and two pianists will be accepted into the program which will focus on building the tools for complete performances both in song repertoire and opera.
Faculty:
Click on image for a detailed bio.
Registration:
Tuition: $650

Application Deadline: April 5, 2017

Required:

►MP3, YouTube links or Dropbox of at least 3 contrasting selections.
►Name and contact info of at least one reference (ie: teacher, conductor)
►Short bio highlighting vocal training and activities

Materials must be submitted ONLINE to:
contact@standrewsartscouncil.org
►$25.00 Application Fee
Pay $25 Application Fee with PayPal:
OR

Send an E-Transfer to jan@standrewsartscouncil.org
(Be sure to state what you are paying for. Otherwise, your payment may not be applied to your application.)


Print It: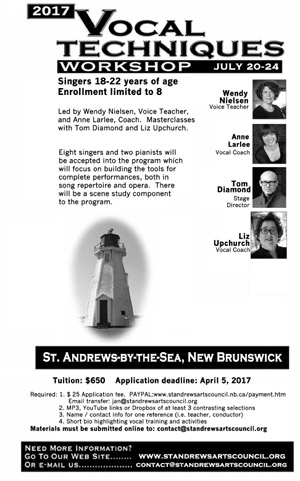 ► For a printable version of this workshop poster, please click here.

This program would no be possible without the continued support of: